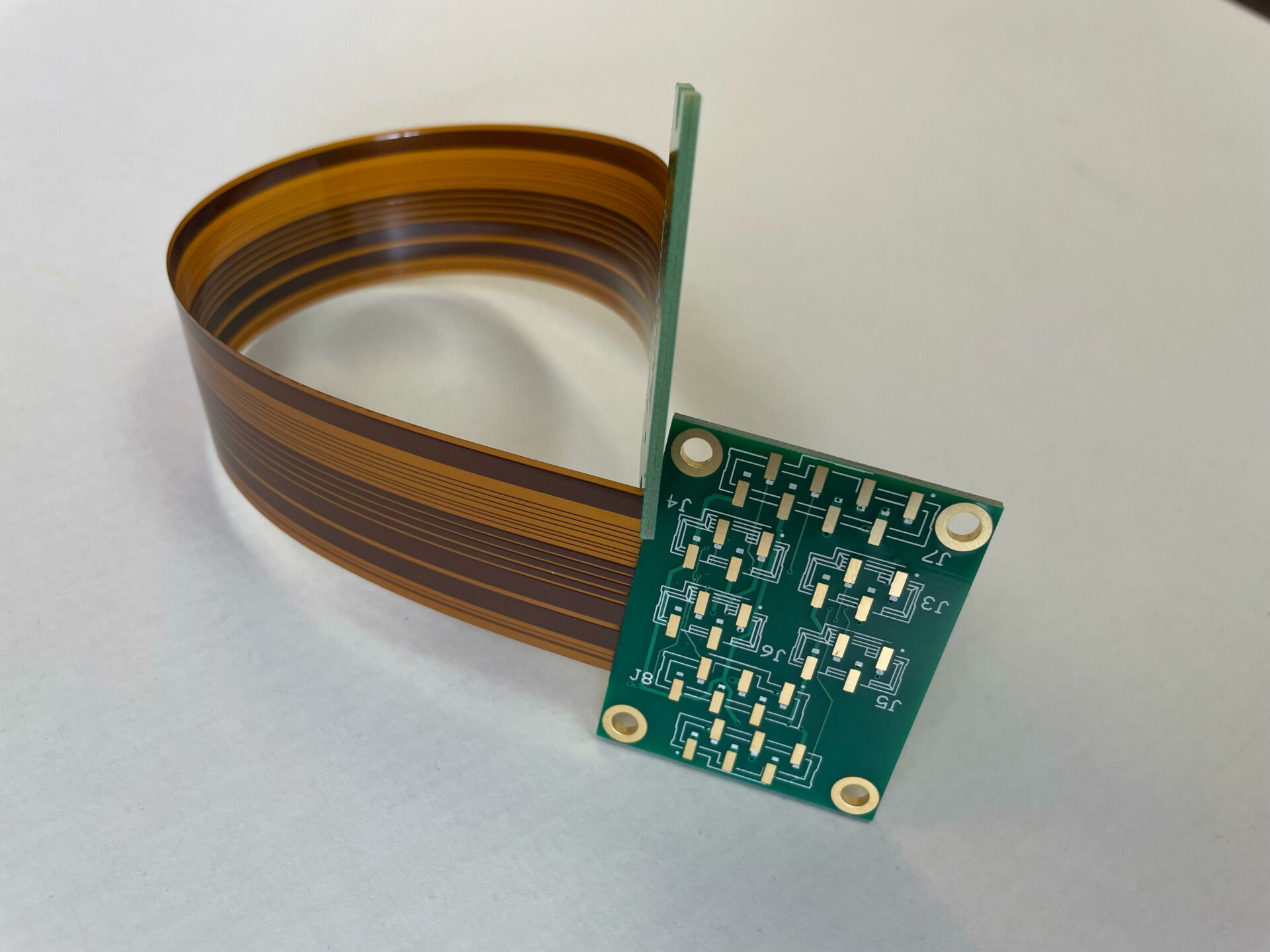 What is a Rigid-Flex PCB?
A Rigid-Flex PCB is a hybrid circuit board combining elements of both flexible circuit boards and rigid circuit boards, with an end result of a board that is able to be folded or continuously flexed and is normally formed into a flexed shape or curve during the manufacturing process.
The flexible layers of a Rigid-Flex PCB are buried within the board and penetrate through the rigid sections of the PCB.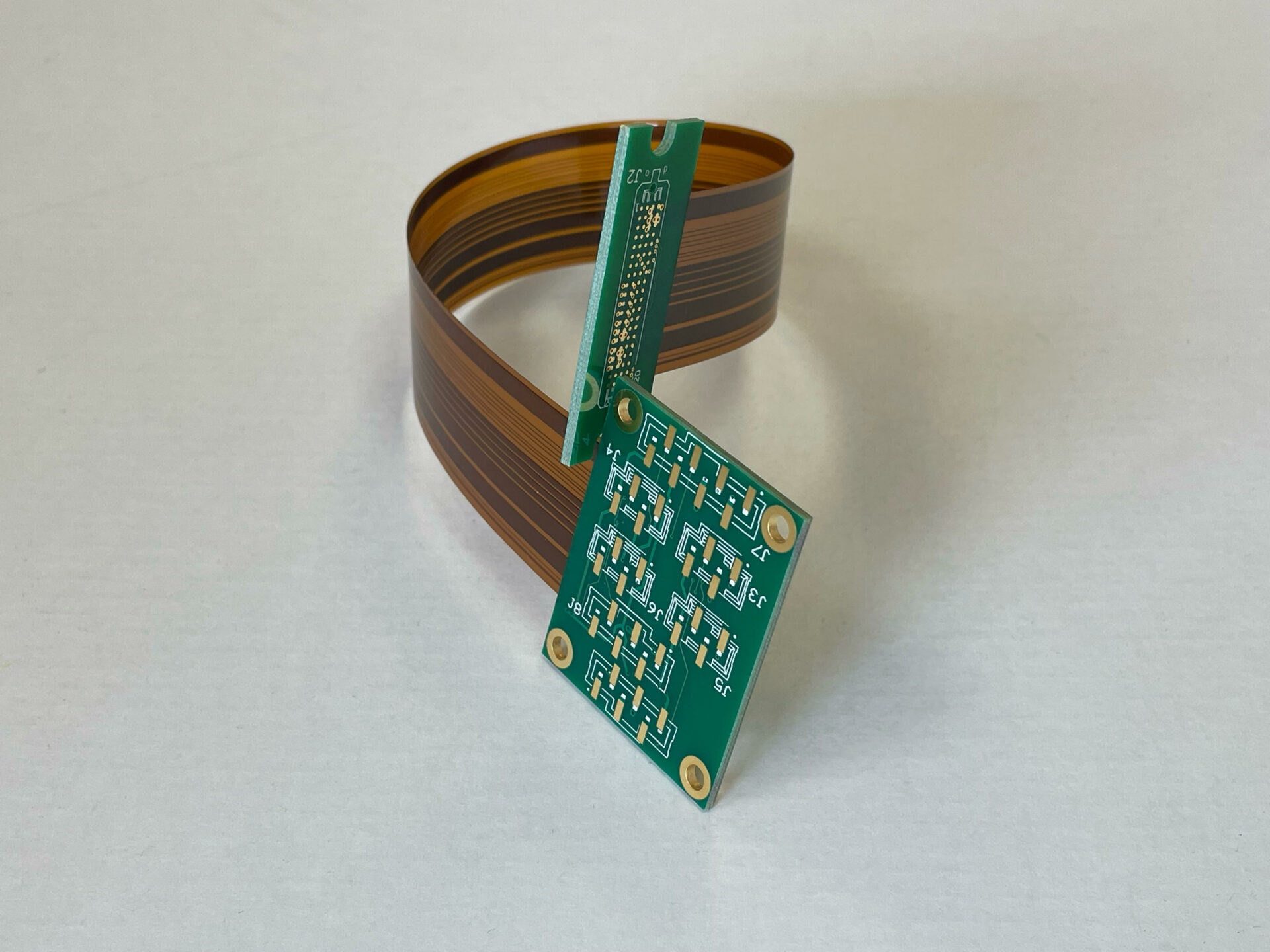 Rigid-Flex design
The designs of Rigid-Flex PCBs are a little more complex as these boards are designed in 3D, which allows the board to be folded or twisted to create the desired shape for the product. Designing a board in 3D means they can offer greater spatial efficiency and can subsequently be used in special instances where space and weight reduction may be necessary, such as in medical devices.
Rigid-Flex PCBs are usually thinner than other boards, meaning it's a great option for any thin or light packaging needs your products may have. With thin copper layers and adhesive-less laminates, it's a great small, thin and light solution for your circuit design needs.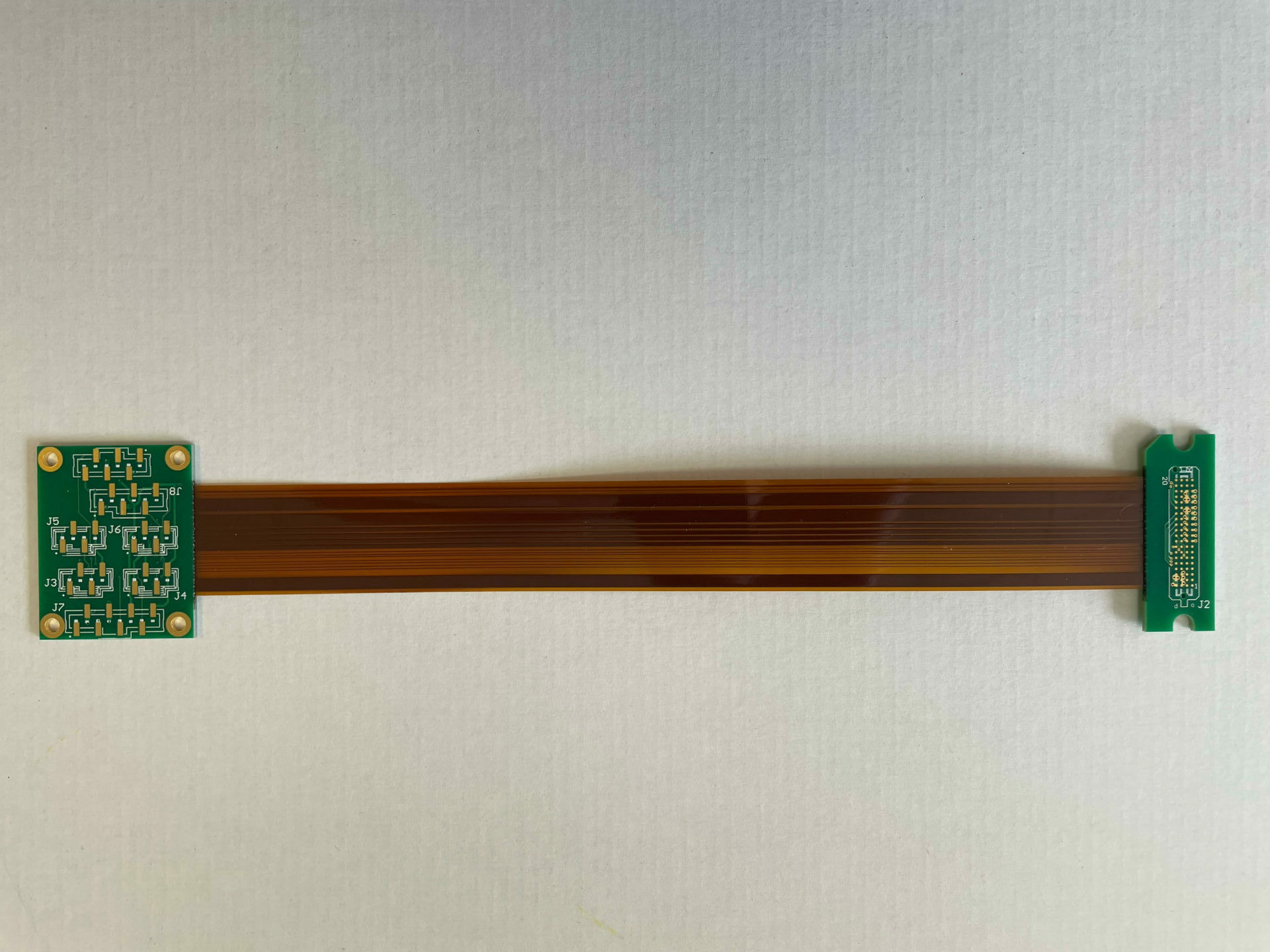 Flex to install & dynamic flex PCBs
There are two common types of Rigid-Flex PCBs; flex to install and dynamic flex.
Flex to install: this is the most common of the two and applies when a board only folds once, either when the device or product is assembled or dismantled, but is otherwise sturdy and stable throughout
Dynamic flex: a dynamic flex board will be used when a product is required to fold and bend when in use, meaning they are highly durable and can last through a thousand flex cycles
Whilst the design might be a touch more complex, and the process slightly more time consuming than the usual printed circuit board, they are an investment worth making with their versatile and durable nature.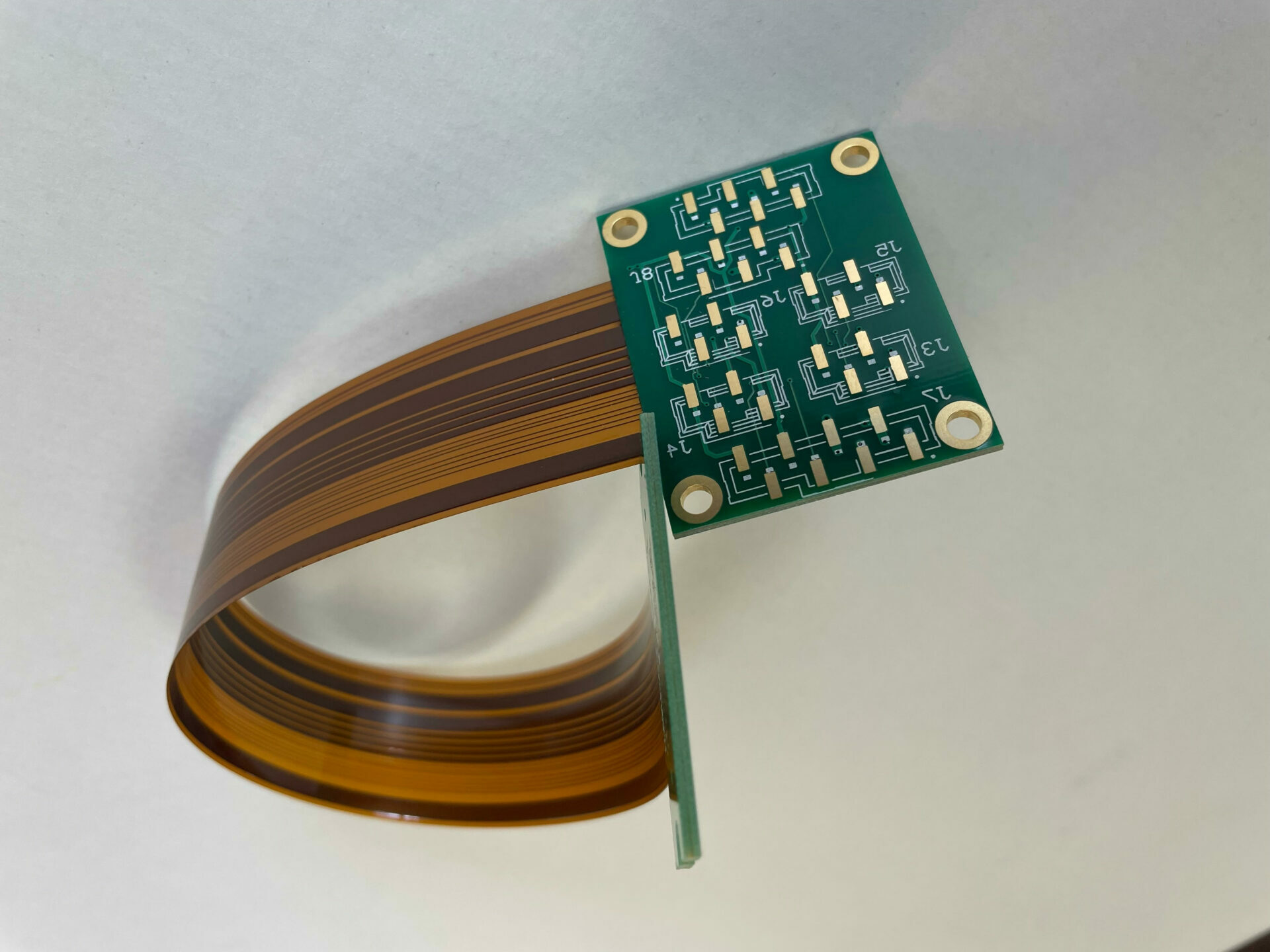 Rigid-Flex benefits
There are several benefits to a Rigid-Flex PCB which could make it a perfect choice for your product, including:
Reduced space requirement through 3D ability
Shock resistance: Rigid-Flex PCBs can withstand high-stress environments
Increased reliability: due to the reduced need for solder joints or connectors, Rigid-Flex PCBs are a brilliant choice for products where a connector or cable failure could be detrimental
Rigid-Flex PCBs also have a simpler assembly process as they have fewer cables and connectors being used throughout
If your product requires a board that needs to be folded when assembled or you're after something highly durable and long-lasting then a Rigid-Flex PCB might be the right fit for you.
Get in touch today
For more information on our PCB services or to get a quote, contact our team today. Give us a call on 01462 417 400 or reach us through our contact page to learn how we can help you.
Our reputation as one of the country's most reliable and trustworthy blank PCB manufacturers has been built up through decades of dedication to our customers and the promise that your circuit boards will be delivered "on time, every time". Whether you are ordering our bare boards or choosing our total PCB solution, we pride ourselves on offering some of the best lead times in the industry, without compromising our quality and service.
Take a look at our online quotation page and see just how competitive our prices are for your blank PCB service needs.
Great communication before, during and after the design of the boards.
Matthew
Great quality PCB's designed and delivered to meet our deadlines. Great communication before, during and after the design of the boards. Packaging was strong and durable. Would recommend to anyone.

Fast
You will benefit from the fastest leadtimes in the UK. Your ABL Circuits PCB's will be delivered within 5 working days as standard.

Friendly
Your order will be dealt with promptly by a friendly and conscientious team, committed to providing a high level of service.

Exceptional
You will also benefit from our exceptional 8 hour same day express service for your urgent prototypes.

Experienced
The knowledge gained from 30 years of experience eliminates your risk in dealing with ABL Circuits.

Dependable
Your deadlines are critical to you and us, that's why we guarantee you will receive your boards on time, every time in perfect condition.
News, blogs & articles
Latest blogs from ABL
PCBs in Electric Vehicles: Powering the Future of Transportation
Electric Car Being Charged - Photo by Bob Osias There's no denying that electric vehicles are the future of motoring, despite the recent talk of delaying the switch. ...
Read Post
The Role of PCBs in Offshore Wind Turbines
Two white wind turbines in a field, accompanied by a blue sky The relevance and significance of offshore wind turbines continues to grow in the ongoing fight against ...
Read Post
The Crucial Role of PCBs in Aircraft Avionics and Flight Control Systems
PCBs are pushed to the limits when it comes to aircraft avionics. In aircraft, PCBs are exposed to many harsh environments, including exposure to rapidly changing ...
Read Post
See what others say
Testimonials
Ian - MES
First time user of ABL and placed an order for a 4 layer board with 2oz copper on all layers. Order received in 5 days and the quality of the board was excellent. Probably the best quality of board that I have received from using countless suppliers. Would definitely recommend ABL for PCB manufacture and will be using them again for my next PCB request.
Mark
Very nice company to work with as they are always happy to help solve any of my problems fast and good quality work. They are my number one PCB supplier.
Nigel
Excellent service, fast and efficient with excellent help during the development of the circuit design. Great pricing structure and very professional.