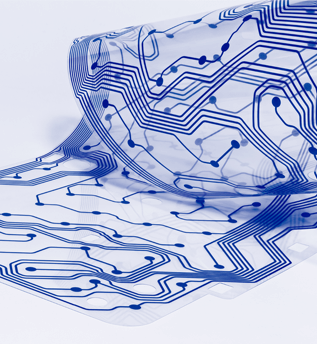 What is a flexible PCB
So what is a flexible PCB, and how do we know whether it's right for you and your next project?  When it comes to flexible PCBs, also known as 'flex PCBs' or 'flex circuits', the main differentiating point is that the electronic devices are mounted onto flexible plastic substrates.
Instead of building a device in which the components must comply to the size of the circuit board, flex PCBs are instead designed to fit the device or product. Flex PCBs are usually thin, lightweight and can work exceptionally well in small spaces and in contoured shapes, which can be a challenge for other printed circuit boards.
When it comes to deciding on the perfect PCB for your next product, there are several options available, from single- and double-sided, to multilayer and flex PCBs. Finding the right option that works for you and your latest innovation is important.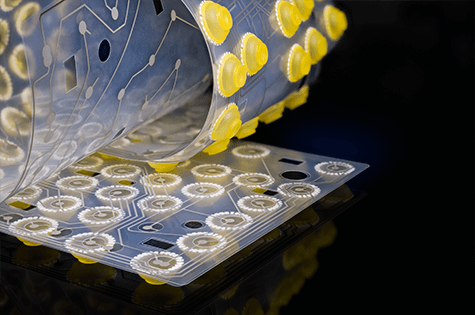 What are the benefits of flexible PCB's
There are several advantages of a flex PCB that are worth considering when thinking of the best foot forward for your all-important product:
Space Race: The nature and design of flex PCBs mean they do not use as much space, and additionally weigh less than an ordinary circuit board
Bend and Snap: As the name would suggest, flex PCBs also have inherent flexibility allowing for tighter bend capabilities for your product
Feeling The Heat: Flex PCBs, due to their substrates such as polyimide, dissipate heat better than most circuit board materials and are able to withstand extreme temperatures
Compatibility Test: Flexible printed circuit boards are compatible with a wide range of components or connectors, many being smaller or less expensive connectors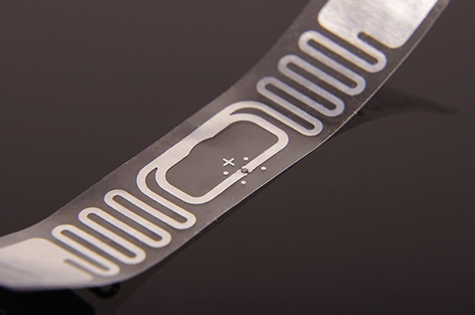 On top of the above benefits, flex PCBs also use less material, less packaging and the costs for replacements are lower, which can never be a bad thing! Flex PCBs offer a plethora of possibilities for different products and designs combining the best qualities of connectors, printed circuit boards, wires and cable, all in one interconnect.
As a leading flexible PCB supplier, with over 30 years of experience in PCB design, manufacturing and assembly, alongside the latest technology and innovations at our fingertips to ensure we are providing the best quality products, we can offer the insights and advice to ensure you are making the right decision. If you have a product in mind and would like to discuss flexible PCBs in more detail, feel free to pick up the phone and speak to one of our friendly team or submit a quote below.
Our reputation as one of the country's most reliable and trustworthy blank PCB manufacturers has been built up through decades of dedication to our customers and the promise that your circuit boards will be delivered "on time, every time". Whether you are ordering our bare boards or choosing our total PCB solution, we pride ourselves on offering some of the best lead times in the industry, without compromising our quality and service.
Take a look at our online quotation page and see just how competitive our prices are for your blank PCB service needs.
Great communication before, during and after the design of the boards
Matthew
Great quality PCB's designed and delivered to meet our deadlines. Great communication before, during and after the design of the boards. Packaging was strong and durable. Would recommend to anyone.

Fast
You will benefit from the fastest leadtimes in the UK. Your ABL Circuits PCB's will be delivered within 5 working days as standard.

Friendly
Your order will be dealt with promptly by a friendly and conscientious team, committed to providing a high level of service.

Exceptional
You will also benefit from our exceptional 8 hour same day express service for your urgent prototypes.

Experienced
The knowledge gained from 30 years of experience eliminates your risk in dealing with ABL Circuits.

Dependable
Your deadlines are critical to you and us, that's why we guarantee you will receive your boards on time, every time in perfect condition.
News, blogs & articles
Latest blogs from ABL
PCBs in Electric Vehicles: Powering the Future of Transportation
Electric Car Being Charged - Photo by Bob Osias There's no denying that electric vehicles are the future of motoring, despite the recent talk of delaying the switch. ...
Read Post
The Role of PCBs in Offshore Wind Turbines
Two white wind turbines in a field, accompanied by a blue sky The relevance and significance of offshore wind turbines continues to grow in the ongoing fight against ...
Read Post
The Crucial Role of PCBs in Aircraft Avionics and Flight Control Systems
PCBs are pushed to the limits when it comes to aircraft avionics. In aircraft, PCBs are exposed to many harsh environments, including exposure to rapidly changing ...
Read Post
See what others say
Testimonials
Ian - MES
First time user of ABL and placed an order for a 4 layer board with 2oz copper on all layers. Order received in 5 days and the quality of the board was excellent. Probably the best quality of board that I have received from using countless suppliers. Would definitely recommend ABL for PCB manufacture and will be using them again for my next PCB request.
Mark
Very nice company to work with as they are always happy to help solve any of my problems fast and good quality work. They are my number one PCB supplier.
Nigel
Excellent service, fast and efficient with excellent help during the development of the circuit design. Great pricing structure and very professional.