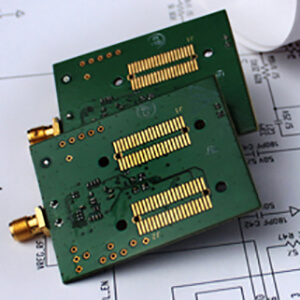 Our PCB prototype UK service is among the fastest and most reliable in the industry. At ABL Circuits, we have more than 30 years' experience in same-day delivery of working test models.
If you need to ensure the core circuits of a PCB design will function as intended on an assembled board, we can get one to you in as little as eight hours. Printed circuit board prototyping is a key part of a complete bespoke PCB service, and a crucial step in preparing your specified circuit designs for a full manufacturing run.
What is a prototype PCB?
Printed circuit board prototypes are used across all areas of the consumer and industrial electronics industries. A PCB prototyping stage helps confirm that a circuit design will work as intended once the components are soldered in place on a real board. In short, a circuit board prototype provides a robust pre-production proof of concept.
A prototype PCB is often a simpler, more basic version of a finished production board, typically offering fewer advanced features and design flourishes. However, it needs to be an accurate, high quality and fully functional test version of the finalised circuit. At this stage, prototype PCB assembly should mirror the basic design, function and component load-out of the finished production run as closely as possible.
Mistakes or oversights at this stage can prove costly if not corrected before moving on to the full batch PCB manufacturing stage, so it's extremely important to get your PCB prototyping done right. Fast turnaround circuit board prototypes are also of huge value to our clients: the earlier in the process we can observe and correct any potential issues, the more time and money you'll save on delivery of the finished product.
What's involved in delivering a PCB prototype?
Developing prototype circuit boards and component layout is a way of checking for bugs and issues on a 'live' working model of your design. It's often used as a follow-up stage to a solderless breadboard version, although a skilled engineer will be perfectly capable of producing an accurate circuit board prototype from the raw data files. Breadboard circuit tests use clip-in components to test the basic layout and behaviour of a circuit under current. Whether or not you're using breadboards as part of the overall design process, they're not seen as a sufficiently robust test on their own. In order to move forward to the full PCB manufacturing stage with confidence, you'll first need to produce a properly assembled and soldered prototype. Prototyping should always be overseen by an experienced technician who knows exactly what they're doing. It's a vital step in the delivery of a full production run for a completed bespoke PCB project, but it's often a step that needs to be completed to a tight deadline.
Why might clients need a fast PCB prototyping service?
There are a number of reasons a client may want a printed circuit board prototype delivered quickly after finalising their circuit design. These can include:
Peace of mind at every phase of a project, and especially prior to moving forward with a finalised design to the full batch production stage
Reduced development timelines, helping lower overall project cost while also speeding up your time to market
Pressing deadlines – these can come either from customers for faster product supply, or to meet tight booking and shipping timescales for upcoming industry showcases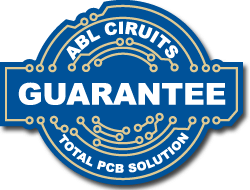 Why choose ABL Circuits for your next PCB prototype delivery?
When you request any aspect of PCB prototype design or manufacturing service from ABL, you'll benefit from some of the fastest data-to-delivery times in the sector. This means fast circuit board prototypes for proof of concept ready in as little as 8 hours, or fully manufactured boards produced within 5 days.
As leading PCB prototype suppliers and prototype circuit board manufacturers, We're proud to have achieved our leading industry reputation, built up over more than three decades in the field. Moreover, we always stand by our accurate and conscientious work – and we're happy to guarantee your satisfaction.
Our friendly, courteous, experienced and professional tech team is highly trained and qualified in all aspects of PCB production, including reverse engineering projects and blank board manufacture.
For more detailed information about any area of our end-to-end PCB services, please feel free to browse other areas of our site. If you'd like to speak to a member of our team directly about an upcoming project – including under fully confidential NDA agreements where required – then don't hesitate to contact us today.
Frequently Asked Questions
A prototype is an early sample of a design used to test the design, however, it has many other benefits such as helping the manufacturer streamline the assembly process.
There are many different ways to test prototypes. It really depends on what the PCB is designed to do.
This varies hugely. it depends on the size, shape and complexity of the design as well as lead times.
It depends on the complexity of the boards. The fastest turnaround we can arrange is a 1-day turnaround for 1+2 layer PCBs
Yes we can manufacture 1-12 layer PCBs.
Our reputation as one of the country's most reliable and trustworthy blank PCB manufacturers has been built up through decades of dedication to our customers and the promise that your circuit boards will be delivered "on time, every time". Whether you are ordering our bare boards or choosing our total PCB solution, we pride ourselves on offering some of the best lead times in the industry, without compromising our quality and service.
Take a look at our online quotation page and see just how competitive our prices are for your blank PCB service needs.
They are my number one PCB supplier
Mark
Very nice company to work with as they are always happy to help solve any of my problems fast and good quality work. They are my number one PCB supplier.

Fast
You will benefit from the fastest leadtimes in the UK. Your ABL Circuits PCB's will be delivered within 5 working days as standard.

Friendly
Your order will be dealt with promptly by a friendly and conscientious team, committed to providing a high level of service.

Exceptional
You will also benefit from our exceptional 8 hour same day express service for your urgent prototypes.

Experienced
The knowledge gained from 30 years of experience eliminates your risk in dealing with ABL Circuits.

Dependable
Your deadlines are critical to you and us, that's why we guarantee you will receive your boards on time, every time in perfect condition.
News, blogs & articles
Latest blogs from ABL
PCBs in Electric Vehicles: Powering the Future of Transportation
Electric Car Being Charged - Photo by Bob Osias There's no denying that electric vehicles are the future of motoring, despite the recent talk of delaying the switch. ...
Read Post
The Role of PCBs in Offshore Wind Turbines
Two white wind turbines in a field, accompanied by a blue sky The relevance and significance of offshore wind turbines continues to grow in the ongoing fight against ...
Read Post
The Crucial Role of PCBs in Aircraft Avionics and Flight Control Systems
PCBs are pushed to the limits when it comes to aircraft avionics. In aircraft, PCBs are exposed to many harsh environments, including exposure to rapidly changing ...
Read Post
See what others say
Testimonials
Nigel
Excellent service, fast and efficient with excellent help during the development of the circuit design. Great pricing structure and very professional.
Ian - MES
First time user of ABL and placed an order for a 4 layer board with 2oz copper on all layers. Order received in 5 days and the quality of the board was excellent. Probably the best quality of board that I have received from using countless suppliers. Would definitely recommend ABL for PCB manufacture and will be using them again for my next PCB request.
CB
We have always had ABL as one of our major suppliers of PCB's. They have always proved to deliver a reliable and quality service. Combine this with the competitive price and lead time, they are a service that you can trust.