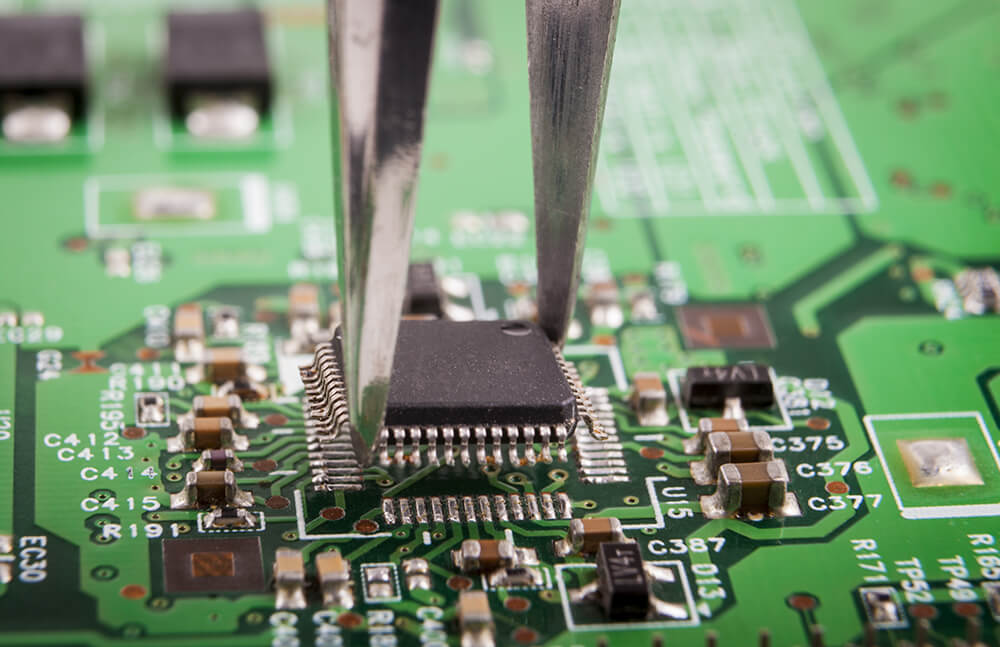 How is a circuit board made?
PCB manufacturing is one of the key stages in a full suite of PCB production services. It typically follows the initial circuit design, prototyping, and assembly phases.
Today's state-of-the-art PCBs are manufactured using precision techniques and advanced materials. They're produced using a combination of manual and mechanical processes, resulting in a board of optimal quality.
When manufactured with skill, accuracy, and expertise, the finished board will function precisely as intended, and be durable enough to meet the demands of its role over an extended period. Whatever the individual use case may be, a well-made PCB must of course remain a reliable and consistent performer throughout its functional lifetime.
In this short guide, we'll answer the common question 'How are printed circuit boards made?' by looking more closely at some of the specific manufacturing techniques we use here at ABL Circuits.
PCB parts and materials
The basic construction of a standard modern PCB involves several core components. The most familiar of these will probably be the physical board substrate itself.
This is usually made in a sandwich structure consisting of two or more layers, with conductive copper sheets separated by some form of rigid or semi-rigid insulating (non-conductive) material. These substrate layers form the board's 'core', and are responsible for the majority of its weight and structural integrity.
One material commonly chosen for non-conductive or dielectric layers is fibreglass, which helps to give the finished PCB a good degree of rigidness and durability. If your specific application requires a more flexible construction, then other types of PCB manufacturing processes are available. These layers form the 'core' of the board, and their role is both structural and insulating. Discover more about what a circuit board is made of.
Conductive and masking layers
Thin sheets of copper foil are usually chosen for the conductive layers. These are laminated to one or both sides (depending on the PCB design) of the substrate under high pressures and temperatures, using a special adhesive.
The connecting pathways that carry electrical current around various components mounted on a finished PCB are known as traces. These traces are etched into the copper layer, taking advantage of the material's high electrical conductivity to form a complete circuit. It's therefore extremely important that the copper layers are well insulated, to prevent unwanted contacts from interrupting or shorting the circuit at any point.
Depending on the construction and circuit requirements of the PCB, this insulation is provided either by an additional layer(s) of substrate material or by using a solder mask on the outermost faces of the board. Solder masks will often have detailed information printed on them, outlining the intended layout of the circuitry and attached PCB components. For a more detailed look at this layering process, see our dedicated pages on PCB Layers Explained, PCB Assembly, and the PCB Manufacturing Process.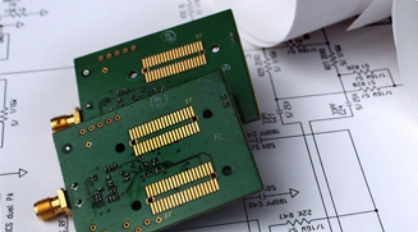 PCB manufacturing FAQs
There are a number of questions our clients often ask about the physical manufacturing stages of our full PCB production service. Among the most common questions we're asked are:
Can custom boards be made in different colours?
Yes. For specific PCB colour requirements, we can add various pigments to the epoxy resin of the substrate. Our standard options are green, red, blue, black or white – but we're always happy to discuss a bespoke colour requirement if you prefer.
Are there any particular size limitations in PCB manufacture?
We have the capacity to make boards in an extremely wide range of sizes. The smallest we've made to date was just 5mm square (for use in a specialised medical tool), while the largest we can produce via our in-house facilities is currently 450 x 300mm (18 x 12 inches). However, if you need a significantly bigger board for a specific project, we're also able to source these through a number of reliable partners.
How quickly can a manufactured PCB be made and shipped?
At ABL, we're proud to offer some of the shortest lead times and fastest order turnarounds in the UK. Many of our major clients often need an urgent prototype manufactured at very short notice, often while requiring us to work under strict NDA conditions, which we're always happy to do.
Our standard lead time is 5 days – again, one of the fastest in the UK – but we've also invested in systems that allow us to offer an express, same-day service for more urgent prototyping demands. These can be ready in as little as 8 hours from receipt of the initial Gerber files.
ABL Circuits has been at the forefront of the British PCB design and manufacturing industry for almost 40 years, building a reputation for industry-leading quality and reliability across a full suite of PCB services. We're always happy to guarantee your complete satisfaction with our work on any stage of the process you bring us in to help with.
You can contact a member of our expert technical team at any time to discuss your specific PCB manufacturing requirements. Alternatively, you can submit a basic project outline using our handy web tool for a free design, prototype, assembly, or full batch manufacturing quote.
Our reputation as one of the country's most reliable and trustworthy blank PCB manufacturers has been built up through decades of dedication to our customers and the promise that your circuit boards will be delivered "on time, every time". Whether you are ordering our bare boards or choosing our total PCB solution, we pride ourselves on offering some of the best lead times in the industry, without compromising our quality and service.
Take a look at our online quotation page and see just how competitive our prices are for your blank PCB service needs.
Great pricing structure and very professional
Nigel
Excellent service, fast and efficient with excellent help during the development of the circuit design. Great pricing structure and very professional.

Fast
You will benefit from the fastest leadtimes in the UK. Your ABL Circuits PCB's will be delivered within 5 working days as standard.

Friendly
Your order will be dealt with promptly by a friendly and conscientious team, committed to providing a high level of service.

Exceptional
You will also benefit from our exceptional 8 hour same day express service for your urgent prototypes.

Experienced
The knowledge gained from 30 years of experience eliminates your risk in dealing with ABL Circuits.

Dependable
Your deadlines are critical to you and us, that's why we guarantee you will receive your boards on time, every time in perfect condition.
News, blogs & articles
Latest blogs from ABL
PCBs in Electric Vehicles: Powering the Future of Transportation
Electric Car Being Charged - Photo by Bob Osias There's no denying that electric vehicles are the future of motoring, despite the recent talk of delaying the switch. ...
Read Post
The Role of PCBs in Offshore Wind Turbines
Two white wind turbines in a field, accompanied by a blue sky The relevance and significance of offshore wind turbines continues to grow in the ongoing fight against ...
Read Post
The Crucial Role of PCBs in Aircraft Avionics and Flight Control Systems
PCBs are pushed to the limits when it comes to aircraft avionics. In aircraft, PCBs are exposed to many harsh environments, including exposure to rapidly changing ...
Read Post
See what others say
Testimonials
Mark
Very nice company to work with as they are always happy to help solve any of my problems fast and good quality work. They are my number one PCB supplier.
Director
One of our top suppliers, they always offer value for money and a fast reliable PCB service.
Electronics Consultancy
When we needed a high density 10 layer board manufacturing in a hurry, we turned to ABL Circuits. Mark and the team were a pleasure to work with, quickly understanding our requirements and offering a solution for quick turnaround fabrication and assembly at a competitive price. The assembled boards were of a high quality and delivered on time. Highly recommended.