PCB Manufacture Process: 20 Steps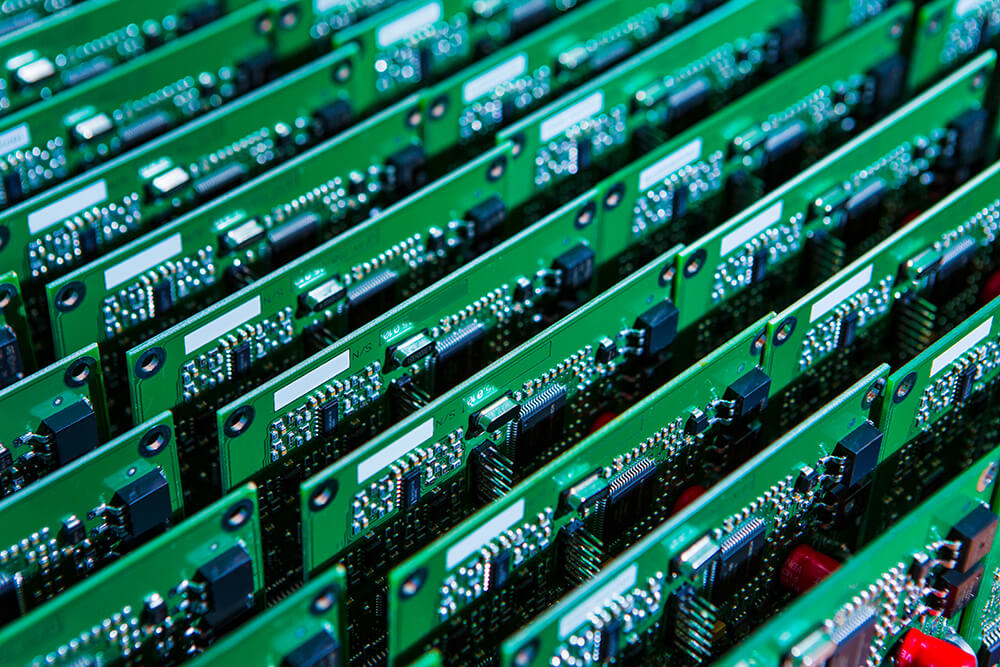 PCB Manufacturing Process
With over 30 years experience at the cutting edge of PCB design, manual and automated assembly, and prototyping, ABL Circuits are ideally placed to handle any individual aspect(s) of printed circuit board development and production. We're also happy to deliver a complete end-to-end PCB manufacturing solution to meet the full demands and deadlines of your next project.
Our state-of-the-art printed circuit board manufacturing process can appear somewhat complex when viewed as a whole – and indeed it might be, depending on the specifications of your circuit design, and the intended application of the finished boards. However, it's much easier to understand the core PCB manufacturing workflow when it's broken down into stages.
What are the key steps in our PCB manufacturing process?
The main sequence of steps in our typical PCB manufacturing process is outlined below. You can see an infographic diagram of the following workflow, along with videos of the individual process stages, at our dedicated PCB manufacturing process page.
1. The raw materials for the substrate are cut to size
In most cases we'll perform this step manually using our specialised power guillotine, giving us the ability to create boards of more or less any size from raw materials that we keep in stock. However, if a larger batch of boards is ordered at a fixed size (usually 50lbs or more of substrate), it can work out cheaper for you if we order panels pre-cut to the required dimensions.
2. The required thickness of the PCB is established, then the substrate is prepared for drilling
ABL Circuits can manufacture PCBs to a variety of thicknesses, ranging from as little as 0.3mm up to 3.2mm depending on the application. The typical measure for most standard substrates is 1.6mm. Boards are then prepared for precision drilling using our specialist PCB manufacturing equipment, by being sandwiched firmly between sheets of aluminium and fibreboard. This arrangement helps to prevent any burring or drill deflection, keeping the holes in the PCB exceptionally clean.
3. Tooling pins are inserted for holding the board to a CNC machine
Before we actually drill the holes required for connecting components on the final circuit design, small tooling pins are inserted into pre-drilled holes around the edges of the board. This is done to ensure the PCB remains absolutely stable when in place on the CNC drilling machine, guaranteeing 100% accurate positioning throughout the crucial next step.
4. Component mounting holes are drilled in the PCB
This is done according to the finalised circuit design. Boards can be loaded into the CNC PCB drilling rig either manually or automatically, while the laser-detect function on the drill ensures both concentricity and correct bit diameter (0.3mm-6.5mm) even when unmanned. This enables us to run more urgent batches unaided through the night when necessary.
5. Boards are split and inspected for accuracy
The drilled boards are then split apart and checked for any errors or imperfections, such as missing holes or damage caused by a broken drill bit (although the latter will be auto-detected by the CNC machine). Finally, a conveyorised polisher scrubs the surface of the copper clean to remove any small burrs or rough edges.
6. Shadow process
We then pass the drilled panels through a mixture of carbon and water, which lines the holes for conductivity so they can be plated more effectively in a later stage. This process is automated via conveyor belt, ensuring consistency of treatment in this so-called 'shadow process'.
7. Photosensitive lamination
Once the boards are completely clean and dry, a UV-reactive blue photosensitive film is laminated to each of the board's surfaces. This stage helps prepare the PCB for marking (and subsequently etching) later on.
8. Photo plot PCB layouts
In a special type of UV-isolated room, photo plots representing both the component side and the track side of the circuit are precisely aligned on the laminated UV-sensitive panel using tooling pins.
9. UV exposure and development
Once the photoplots are accurately aligned and clamped down, the whole panel is vacuum sealed and put into an exposure unit under UV light. This leaves a clear outline of the correct circuit tracking on each side of the panel.
10. Final development pass
After UV exposure, the board is run through a conveyorised PCB developing machine, where any areas that were masked off during the exposure process are thoroughly cleaned and rinsed.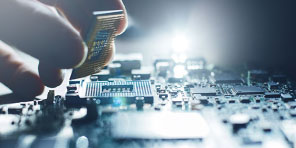 11. Electrolysis (copper plating)
Copper is plated to the board by clamping the whole PCB into a jig, through which an electrical current is passed, forcing the copper to plate down the drilled holes and along all the tracking. This requires a careful calculation of the precise amperage required to achieve the perfect plating. The precise current needed must be recalculated for each new PCB, based on various board-specific metrics.
12. Tin plating for tracking protection
A second plating process takes place, in which the copper traces we'll need to preserve for the finished circuit are coated with a protective layer of tin. This helps keep them protected during the actual etching stage to follow.
13. Etching
Etching around the traces is done by passing the board through a conveyorised PCB etching machine, which sprays it with an amonicon edge solution. This removes any surface copper not protected by the tin plating, leaving only the covered tracking remaining on the board's surface.
14. Tin plating removal
Dried and fully inspected panels are then passed through a tin-stripping machine, which uses nitric acid to remove the protective layer of tin over the remaining copper traces.
15. Solder-resist ink wash
The board is next flooded over with solder-resist ink, before solder-resist photography is overlaid on the board and exposed. This leaves any areas of the board that won't be heat-levelled or gold-finished – i.e. the copper pads – exposed for better contact.
16. Molten solder dip
Once the solder-resist ink has been cured, the whole PCB is submerged in a molten solder bath and hot air levelled as it exits. This process applies solder where required while leaving all holes perfectly smooth and clean, with surface-mount pads precisely flattened.
17. Screen printing
This step is very similar to how DIY t-shirts and posters are made. In order to overlay a detailed circuit and component positioning diagram on the board's solder mask, the PCB is accurately positioned in a printing jig. Ink is then forced through a fine mesh mask onto the board, transferring the component location scheme precisely onto its surface. Finally, the screen printed board is cured under UV light.
18. Bare board testing
A tool known as a four-headed flying probe is then used to accurately check and test all connections on the bare boards for proper conductivity, searching both sides for any sign of shorting. This is done with reference to the original CAD data supplied, rather than comparing one board to another, eliminating any risk of errors creeping in gradually across large production batches.
19. CNC Routing & Automated PCB assembly process
At this point, the finished board shapes and dimensions can then be scored or routed out of a larger panel, using a precision CNC routing machine. This assembly process can be automated using the original CAD data, or performed manually using a video-guided joystick. In some cases, clients will prefer us to leave smaller boards as a full panel for ease of installation.
20. Final inspection and shipping
The routed boards are carefully dusted off and cleaned, before being given a final series of manual inspection checks. Once passed, they can then be wrapped and packaged for delivery.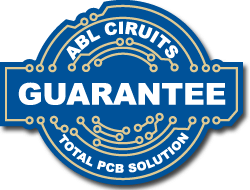 ABL Circuits: over 30 years at the cutting edge of PCB services
Our highly qualified technicians are always ready to work under strict NDA protocols, and we offer some of the fastest lead times in the UK with highly competitive pricing. Moreover, we underpin all our work with a unique client satisfaction guarantee: in short, you can count on ABL Circuits to get the job done right the first time, every time.
If you'd like to learn more about any aspect of our state-of-the-art PCB manufacture process, please feel free to contact a member of our expert team any time. If you'd like to submit a project outline for a free quote, you can do so using the handy tools right here on our site.
Our reputation as one of the country's most reliable and trustworthy blank PCB manufacturers has been built up through decades of dedication to our customers and the promise that your circuit boards will be delivered "on time, every time". Whether you are ordering our bare boards or choosing our total PCB solution, we pride ourselves on offering some of the best lead times in the industry, without compromising our quality and service.
Take a look at our online quotation page and see just how competitive our prices are for your blank PCB service needs.
They are my number one PCB supplier
Mark
Very nice company to work with as they are always happy to help solve any of my problems fast and good quality work. They are my number one PCB supplier.

Fast
You will benefit from the fastest leadtimes in the UK. Your ABL Circuits PCB's will be delivered within 5 working days as standard.

Friendly
Your order will be dealt with promptly by a friendly and conscientious team, committed to providing a high level of service.

Exceptional
You will also benefit from our exceptional 8 hour same day express service for your urgent prototypes.

Experienced
The knowledge gained from 30 years of experience eliminates your risk in dealing with ABL Circuits.

Dependable
Your deadlines are critical to you and us, that's why we guarantee you will receive your boards on time, every time in perfect condition.
News, blogs & articles
Latest blogs from ABL
PCBs in Electric Vehicles: Powering the Future of Transportation
Electric Car Being Charged - Photo by Bob Osias There's no denying that electric vehicles are the future of motoring, despite the recent talk of delaying the switch. ...
Read Post
The Role of PCBs in Offshore Wind Turbines
Two white wind turbines in a field, accompanied by a blue sky The relevance and significance of offshore wind turbines continues to grow in the ongoing fight against ...
Read Post
The Crucial Role of PCBs in Aircraft Avionics and Flight Control Systems
PCBs are pushed to the limits when it comes to aircraft avionics. In aircraft, PCBs are exposed to many harsh environments, including exposure to rapidly changing ...
Read Post
See what others say
Testimonials
Nigel
Excellent service, fast and efficient with excellent help during the development of the circuit design. Great pricing structure and very professional.
Director
One of our top suppliers, they always offer value for money and a fast reliable PCB service.
JC
ABL Circuits are very responsive and keen to deliver results. Very patient and always seem to get it right whenever required. They always think on behalf of the customer, which is key.