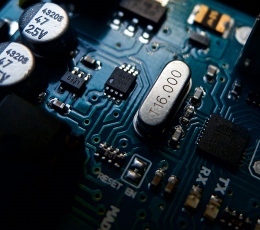 PCBs
PCBs, or printed circuit boards, are a key staple of modern electrical engineering. They can be found in almost every type of electronic device we use today. In fact they're now so ubiquitous, it'd be much more difficult to list modern tech gadgets that don't feature some form of PCB than those that do.
This quick introductory page covers the very basics of what printed circuit boards are, and how they're put together. We'll also outline the various services available through our state-of-the-art PCB design and manufacturing setup here at ABL Circuits.
What is a PCB?
In very simple terms, a printed circuit board is essentially a neater, more compact and more reliable alternative to the older standard of multi-wire circuits. Before PCBs were as widely used as they are now, components in any electronic device relied on full point-to-point wiring for their interconnections.
Not only is this a labour-intensive and time consuming approach to circuit building, it's also much more prone to various instabilities and points of failure. Shorts and faulty connections are risks very much inherent to those older circuit design standards, and the likelihood of encountering such issues only increases with device usage and age.
Advantages of a PCB
Printed circuit boards eliminate the need for this external point-to-point wiring, instead using etched conductive traces on a solid substrate to form the necessary connections. (For that reason, you might also see PCBs referred to as 'printed wiring cards', 'wiring boards', or similar.) The components are solder-mounted to this substrate, which has all the required connections for a given circuit already mapped out and etched in place.
PCBs offer a durable, efficient and highly customisable way to create reliable connections between multiple fixed components. Their widespread adoption has had a huge impact in the modern tech world, enabling drastic reductions in both the size and assembly costs of countless electronic products on today's market.
For more background on the history and function of printed circuit boards, see our dedicated articles What is a PCB? and How do Printed Circuit Boards Work?
How are PCBs made and assembled?
PCB boards are usually assembled from multi-layered sheets of varying materials, some conductive and others insulating. You can think of their basic structure as being a little like a lasagne, layer cake or sandwich.
Fibreglass is typically used for the non-conductive or dielectric layers, giving the board its rigidness and durability. (Other types of PCBs, including more flexible constructions, are also an option for certain applications). These layers form the 'core' of the board, and their role is both structural and insulating.
Conductive and masking layers
Between and around these non-conductive materials are placed one or more conductive layers, usually made from thin sheets of copper foil. They're normally affixed to one or both sides of a fibreglass substrate, using adhesive and heat. These copper layers are what enable the etched traces – the connective paths – on a finished PCB to carry current and voltage around the board, linking components in a completed circuit.
The outer faces of the board will usually feature a layer known as the solder mask. This is commonly placed over any exposed copper sheeting to prevent unwanted contact with nearby items or PCB components, which would cause a short. The solder mask can also have circuit details and other graphics printed onto it, often providing users with information about the layout of attached components. It can also be useful for aesthetic design and branding purposes. For more detailed information, see our pages on PCB Layers Explained, PCB Assembly, and the PCB Manufacturing Process.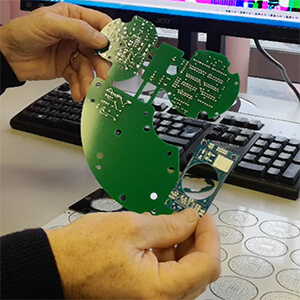 What PCB services can ABL Circuits provide?
ABL Circuits have more than 30 years' dedicated experience in all aspects of printed circuit board design and manufacture. Our highly qualified and extensively trained team brings unrivalled industry expertise to every stage of the carefully monitored PBC design and build process. This includes all key phases of consultation, prototyping, manufacture, testing and quality control. Ours is a holistic approach, ideally suited to supplying fully bespoke printed circuit board solutions. At ABL Circuits, we've supplied our services to an extremely diverse range of industries and applications over three decades, working with many leading companies in the fields of aviation, motor racing, entertainment and gaming, stage sound, and commercial lighting. Among our many other qualities and principles, we're proud to have built a leading reputation among UK PCB suppliers for:
Our in-depth knowledge and longstanding experience of the entire PCB creation process, from design and prototyping through to manufacturing, assembly and reverse engineering.
Our established business model that promotes a client-first approach to every project. We've run a state-of-the-art PCB manufacturing service for over 30 years, and have worked repeatedly with numerous returning clients in that time.
The fastest lead times in the UK. Nobody can take your printed circuit board project from concept to completion more quickly and efficiently than ABL.
Our highly competitive pricing, accurately reflecting the needs and demands of your project with no unwarranted extras tacked on
Our flexibility of approach. You can make use of our services for one part, several parts, or the entirety of a PCB design and build process.
Our discretion and professionalism. We're always happy to work under rigorous NDA conditions, and continue to do so for a majority of our valued clients today.
Our reputation as one of the country's most reliable and trustworthy blank PCB manufacturers has been built up through decades of dedication to our customers and the promise that your circuit boards will be delivered "on time, every time". Whether you are ordering our bare boards or choosing our total PCB solution, we pride ourselves on offering some of the best lead times in the industry, without compromising our quality and service.
Take a look at our online quotation page and see just how competitive our prices are for your blank PCB service needs.
They are my number one PCB supplier
Mark
Very nice company to work with as they are always happy to help solve any of my problems fast and good quality work. They are my number one PCB supplier.

Fast
You will benefit from the fastest leadtimes in the UK. Your ABL Circuits PCB's will be delivered within 5 working days as standard.

Friendly
Your order will be dealt with promptly by a friendly and conscientious team, committed to providing a high level of service.

Exceptional
You will also benefit from our exceptional 8 hour same day express service for your urgent prototypes.

Experienced
The knowledge gained from 30 years of experience eliminates your risk in dealing with ABL Circuits.

Dependable
Your deadlines are critical to you and us, that's why we guarantee you will receive your boards on time, every time in perfect condition.
News, blogs & articles
Latest blogs from ABL
PCBs in Electric Vehicles: Powering the Future of Transportation
Electric Car Being Charged - Photo by Bob Osias There's no denying that electric vehicles are the future of motoring, despite the recent talk of delaying the switch. ...
Read Post
The Role of PCBs in Offshore Wind Turbines
Two white wind turbines in a field, accompanied by a blue sky The relevance and significance of offshore wind turbines continues to grow in the ongoing fight against ...
Read Post
The Crucial Role of PCBs in Aircraft Avionics and Flight Control Systems
PCBs are pushed to the limits when it comes to aircraft avionics. In aircraft, PCBs are exposed to many harsh environments, including exposure to rapidly changing ...
Read Post
See what others say
Testimonials
Nigel
Excellent service, fast and efficient with excellent help during the development of the circuit design. Great pricing structure and very professional.
Director
One of our top suppliers, they always offer value for money and a fast reliable PCB service.
Electronics Consultancy
When we needed a high density 10 layer board manufacturing in a hurry, we turned to ABL Circuits. Mark and the team were a pleasure to work with, quickly understanding our requirements and offering a solution for quick turnaround fabrication and assembly at a competitive price. The assembled boards were of a high quality and delivered on time. Highly recommended.