What instructions do ABL Circuits need before manufacturing Printed Circuit Boards (PCBs)?
Photographic film (referred to as photoplots) used in the production of PCBs, requires Gerber files. These can either be supplied by yourselves or we can produce these based on your circuit diagram and component list, by providing a CAD layout in house. We can also design PCBs based on existing circuit boards or historic designs. We have a strong reputation for reverse engineered printed circuit boards too.
Tooling holes are very accurately punched at either end of each film. These locate with the drill pattern on a tooling system so that everything lines up exactly for the CNC drilling operation.
For the last 30 years at ABL Circuits, we have been manufacturing PCBs for existing equipment, prototypes and volume assemblies, based on every type of initial brief. We can replicate or reverse-engineer finished products, design accurate circuit board layouts based on hand-drawn or computer designed circuit diagrams and their associated parts lists, or manufacture directly from Gerber files.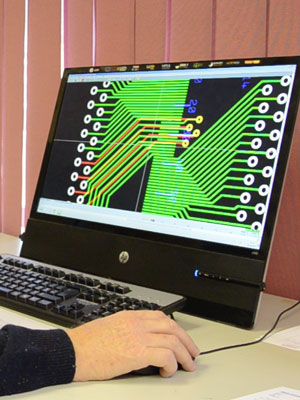 The process of producing the boards requires a separate film for the tracks on each side of the board as well as film for the solder resist, to leave pads exposed for tinning prior to soldering and applying the ident layer for component placement.
These films are accurately plotted from the CAD design system's Gerber files directly to the photo plotter, including the position of tooling holes at either end of the board. This ensures perfect alignment of the plotted image on the drilled panel.
Once plotted, these films are carefully documented, stored and used again for repeat orders.