Printed Circuit Board colours
Did you know that ABL Circuits can produce printed circuit boards in a variety of colours for you? For no extra cost, you can choose your printed circuit board colours, from red printed circuit boards, blue printed circuit boards, black printed circuit boards, white printed circuit boards or green printed circuit boards, all made to the same unbeatable time frames and still at competitive prices.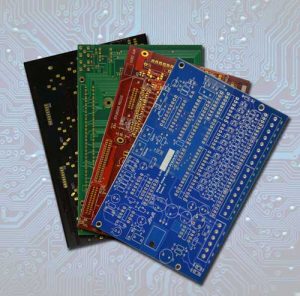 The standard colour of PCBs that we manufacture from our factory in Baldock, Hertfordshire is green – making up approximately 85% of the printed circuit boards we produce. The reason they are generally green is because it is easier for the eye to see the white lettering and where the components go.
Why choose different printed circuit board colours?
There are a number of reasons why our customers would choose to deviate from the standard green printed circuit boards. For some, they choose a different colour to identify it as a prototype. Others want to decipher between batches. One customer chooses blue PCBs because of his favourite football team! Whatever the reason, ABL Circuit will always strive to meet all of your needs and deadlines.
Many printed circuit board manufacturers produce a variety of coloured PCBs, but not many do not offer the total PCB solution that ABL do – PCB Design, PCB Prototypes, PCB Manufacture, PCB Assembly – nor do they offer such a fast and efficient service, without compromising on quality.
Custom PCBs from ABL
Our custom PCBs, whatever the colour, have gained us the reputation as one of the country's most reliable and trustworthy manufacturers.
For over 30 years, ABL Circuits have been producing blank PCBs for use in a wide range of applications, including medical, motor racing, laser games, stage sound and lighting. Our clients come from a varied collection of industries who return to us for their printed circuit board needs time and time again.
Use our online form to get a quick quote for our PCB services.