PCB Manufacturing in UK or China
At ABL Circuits we can manufacture your PCBs in our UK factory or we can use our expertise to procure your boards from China at a great price and faster than you think.
We have been proudly designing and manufacturing PCBs in the UK for over 30 years. Global production has changed immensely since we began, and we strive to stay ahead of the game ensuring our customers always receive the best service from us at a competitive price.
By using ABL Circuits to manage your overseas manufacturing we will ensure that the quality is great and your job will arrive in a good time. By using our trusted Chinese partners PCBs from China can be delivered from 5 days of order receipt.
Many companies go direct to Chinese manufacturers but by doing so they have to vet the quality of work themselves and common lead times for PCBs in China is 6 weeks. But using ABL to manage your overseas production we will ensure the quality is high, costs are low and your circuit boards arrive quickly.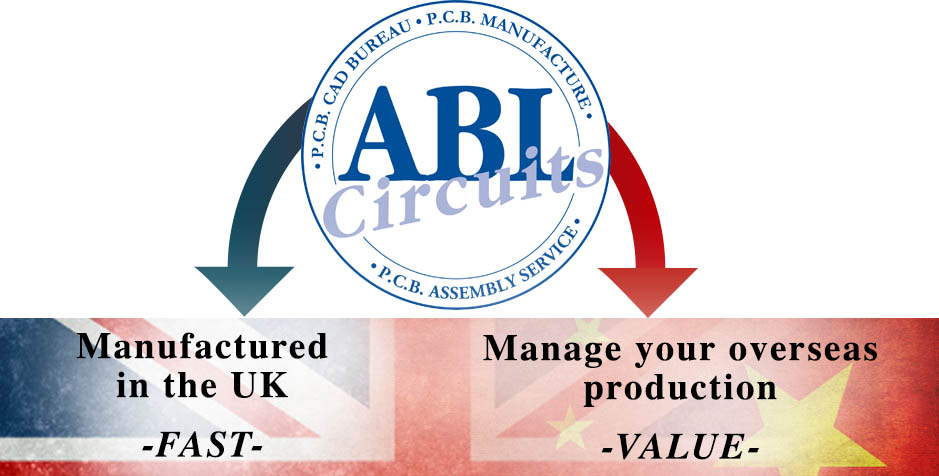 | UK PCB Manufacturer | CHINA PCB Manufacturing |
| --- | --- |
| Standard UK PCB manufacturing | Value Overseas PCB manufacturing |
| Completion in 8 hours | Completion from 5 days |
| GUARANTEED 5 day service | ABL Tried & tested Chinese offshore manufacture |
| No minimum quantity required | No minimum quantity required |
| No maximum quantity required | No maximum quantity required |
| | |
If you are thinking about looking to China for your PCB manufacture and assembly, why not consider doing it through ABL Circuits? We have a relationship with some of the country's most trusted suppliers and can manage the production, ensuring you receive a perfect product. As we have built up a business relationship with specific companies, we deal direct with their PCB factories in China, who give us an exclusive lead time of five days – quite a difference from the six-weeks they offer to others. We would also take the responsibility for your PCB so you do not need to contact them at inconvenient times due to the time difference throughout the whole process as we would manage that for you.
For more information on how we can assist your PCB manufacturing in China and overseas, please contact us today.
We still offer a full total PCB solution at our factory in Hertfordshire, designing, manufacturing and assembling your PCBs.