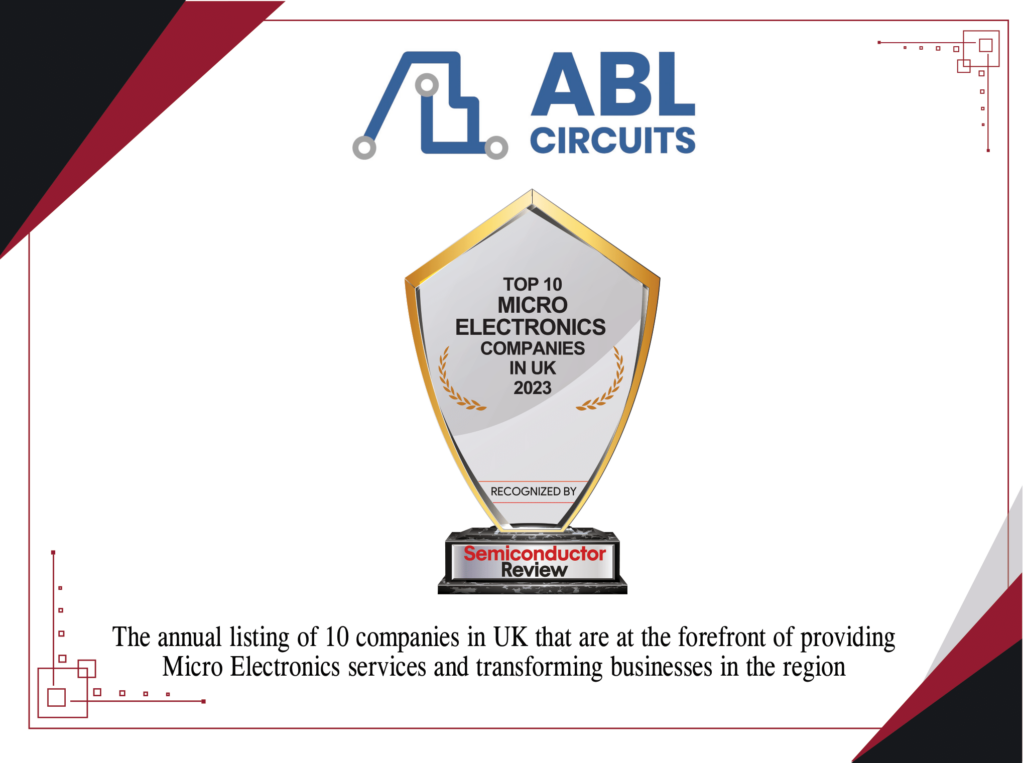 ABL Circuits has been awarded top micro electronics company in the UK 2023 by Semiconductor Review
Semiconductor Review said we are pioneering PCB services from conception to construction
Our role in supporting the community and supporting the UK government during the pandemic helps us to stand out
Recognized by Semiconductor Review
Here at ABL Circuits we're proud and delighted to announce that we've been recognised by Semiconductor Review with the award for the top micro electronics company in the UK 2023.
As part of the award, Semiconductor Review said that we're 'pioneering PCB services from conception' to construction and how we 'differentiate [ourselves] from other manufacturers in how [we] handle the entire production process – design work, bare board manufacture, assembly, and box build – under one roof.'
This award from Semiconductor Review is graciously accepted and is recognition of the hard work the team at ABL Circuits has undertaken over the last 12 months. Below, we'll outline some of the reasons why ABL Circuits stands out and what contributed toward us winning this fantastic award.
ABL's unique range of solutions
At ABL we don't offer a one-size-fits-all solution – we provide a bespoke service to ensure our clients get exactly what they need. We set out to ensure issues with the supply chain don't affect our clients, so we modify our products, meaning we don't have to rely on overstocking. As a result, there are no disruptions in manufacturing, which prevents delays.
As highlighted in Semiconductor Review's award, we offer a turnkey solution that shortens lead times and ensures quality.
Quality and compliance: meeting IPC Class 3 standards
We're obsessed with quality and will do everything we can to make sure our products comply with any IPC Class 3 standards. To do that, we inspect every board we manufacture at each stage of the process, from production through to assembly.
Fast lead times: a key differentiator
One of our best qualities is how fast we're able to turn an idea into a reality. Because we handle every stage of the production process ourselves, we can turn a design into a working prototype within some of the shortest lead times in the industry.
ABL's role in the UK Government's ventilator challenge
During the height of the Covid-19 pandemic, hospitals across the UK struggled to source enough ventilators to help treat patients hospitalised with the disease. To combat the shortages, the UK government asked businesses with the relevant capabilities to help save lives.
Our flexible solution allowed us to redesign ventilator PCBAs within just three days. This enabled us to begin production when other companies were still in the design phase. This placed us as one of the key manufacturers in the industry and we're proud of the input we had in the response to the pandemic.
Expanding services: manufacturing consultancy
Not only do we provide exceptional service for our clients, but we also offer a range of expanded services that benefit the wider community. For example, we support the Bill Gates Foundation with construction projects and provide assistance to major companies, including Airbus, lending our knowledge and skill in design and manufacturing projects.
See the full article from Semiconductor Review for yourself:
Why ABL Circuits is a great choice for OEMs
This award from Semiconductor Review cements ABL Circuits as the go-to total PCB solution for OEMs. With over 30 years of experience behind us, we focus on quality and flexibility, which makes us one of the most dependable PCB designers and manufacturers in the UK. We consider our dependability one of our greatest strengths, with a promise to deliver circuit boards on time, every time.
For more information and to find out how we can support your OEM, get a free trial today and enhance your product with ABL Circuits.